Our mandate
Resolve Conflict
The Centre's mandate is to provide training in alternative dispute resolution processes to a diverse clientele within the Caribbean. This is accomplished through:
Developing Training Modules
Designing and implementing training modules that specifically address the cultural and social dimensions of conflict within each Caribbean territory.
Offer Seminars and Workshops
Providing, seminars and workshops to regional governmental departments and private firms, in both specialized and general areas of alternative dispute resolution processes.
Provide Consultation
Consulting with firms and government agencies on the implementation of processes and laws.
Our philosophy
Respecting Diversity Achieving Harmony
Who we serve
Over the years, the Centre has trained persons from the following professions;
Attorneys at Law, Probation Officers, Police Officers, Guidance Counsellors, Insurance Executives, Human Resource Executives & Personnel, Governmental Executives & Personnel , Management Personnel, Customer Care Personnel,
What we do
Equipping Professionals with Critical Skills
Conflict Resolution for the Tourism Industry
Designed for persons who serve in the hospitality industry, this course offers participants the ability to apply their skills in role playing exercises that are tailor-made to potential conflict scenarios in the tourism industry.
Conflict Resolution for Leaders
This 4-day course is designed for leaders in any sphere. It examines the procedures to be implemented as it relates to addressing the disputes in the organization and offers an interdisciplinary approach to conflict resolution training, incorporating training modules on emotional intelligence and management style analysis.
Mediation Skills for HR Personnel
This Course spans four half days and is designed for human resource personnel. It examines the procedures to be implemented as it relates to addressing the disputes in the organization and offers an interdisciplinary approach to conflict resolution training incorporating modules on preparing for industrial negotiations.
Lead Mediator
Maria Phillips
Maria Phillips LLB LLM MSC, has been a practising Attorney-at-Law for over fifteen years. Miss Phillips has established a general legal practice becoming versed in both contentious and non-contentious legal matters in areas of family, civil and criminal law.
more ...
Since 2007, Miss Phillips has facilitated workshops in mediation, in which key personnel in both government and the private sector were trained in mediation in Barbados and the region. She currently lectures at the University of the West Indies Faculty of Law Cave Hill Campus in Alternative Dispute Resolution, as part of the undergraduate law degree program, and was instrumental in designing both negotiation and mediation workshops in Alternative Dispute Resolution.
Miss Phillips has completed her training and certification in mediation with the Centre for Effective Dispute Resolution in London and the Trinidad Mediation Board. As part of her contribution to her community, she has served on several Boards and works with charities in her community.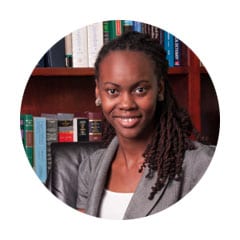 Rochelle Lashley
Facilitator/Mediator
Rochelle is an Attorney-at-Law, practiced in the field of civil litigation, including but not limited to personal injury matters, landlord and tenant matters, contractual agreements, corporate matters, family and employment disputes. Rochelle is also trained in the area of human rights.
more
Rochelle Lashley is a Certified Mediator who believes in the benefits of mediation as an effective method to resolve conflicts.
She has also extended her studies by acquiring a Master's of Science Degree in Mediation Studies. Through the master's program Rochelle did extensive research on conflict resolution preferences in Barbados.
Rochelle has had training in Mediation through the Trinidad Mediation Board, and is currently a Mediator on the Trinidad Mediator Roster.
Through the Court Annexed program of Barbados, she has also gained invaluable training specific to Barbados and is currently a rostered mediator for the Barbados Supreme Court, Court Annexed Mediation Project.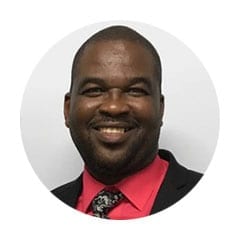 Anthony Durrant
Facilitator/Mediator
Mr. Durrant functions in the capacity as a director of the centre as well as a family mediator and facilitator.
Mr. Anthony Durrant is a Minister of Religion and a Counsellor, who for the past fifteen (15) years, has offered his services to the Church and the wider community.
more
In addition to Holy Spirit Ministries, a church which he co-founded with his wife, he is the founder of Share Men International a charity based in Barbados.
Share Men International is established to assist in the development of men by offering seminars, workshops, conferences, television and radio programs dealing with issues pertinent to today's man.
Share Men is a sixteen (16) week program for abusive men and also for men being abused especially by women. This program was established to offer men the necessary tools and skills to bring about lasting behavioural changes that are critical to building and sustaining strong families.
Mr. Durrant continues to pursue training in counselling to enhance his ability to contribute to the building of strong families in Barbados and beyond. He is also an entrepreneur and founder of Koah Enterprises,  a multi-faceted business.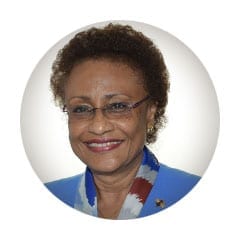 Elsa Webster
Facilitator/Mediator
With over 40 years of executive business executive experience, Elsa has
 held senior positions as CEO, Principal consultant in Business, Chief Technology Officer and Training Director. Her experience spans Strategic Development,  HR, Business training development, and Information and Communications Technology.
more
Ms Webster possesses a wealth of experience in the development of training curricula and delivery, having started the first Microsoft Certified Training Centre and ICT Professional Training Centre which provided training and Certification for over 20,000 persons across the Caribbean Region. As a Business Development Consultant, Ms Webster developed and provided a wide range of customisable business courseware and instructor guides to corporations seeking to increase productivity. She developed and delivered learning modules via the first online learning management platform in the Caribbean.
At present Ms Webster is specially interested in mediation, and the development and delivery of programmes that seek to better understand conflict and negative behaviours in organisations that threaten the health and well-being of employees.
Ms Webster holds M.Phil, B.Sc. Degrees in Agriculture form the University of the West Indies and a Masters in Business Administration from the University of Surrey. She also holds several professional certifications in Information and Communications technology and project management. She has also served on several Boards and Committees in the business and public sector.
Lennox Rochester
Facilitator/Mediator
He is qualified Occupational Therapist and currently heads the Occupational Therapy Department at the Psychiatric Hospital.   He has over 20 years experience in this field.  He is passionate about assisting persons to return to some level of effective functioning in their daily living activities.
more
Mr. Rochester is a graduate of Brunel University, London.  He has served in various capacities on a number of organizations in the medical field.  He is the former Vice President of Barbados Association of Mental Health, Former Chairman of the Paramedical Professions Council, Former President of the Association of Caribbean Occupational Therapists, just to name a few.
Mr. Rochester has been a conference speaker both locally and throughout the Caribbean.  He has facilitated training sessions for public and private sector entities as well with church communities. 
He is the father of two children and the husband of one, charming wife, Cathy.
He lives by motto "with God all things are possible".
Get In Touch
Location:
Level 1, One Welches,
Welches, St. Thomas,
BARBADOS BB22025
Telephone:
(246 ) 836-6984 or
(246 ) 836-6986
Email: cccminc@gmail.com